Job Site Safety is always a top priority to keep your job site and project safe with Dahle Construction LLC. All our personnel retain the latest OSHA credentials. We strive to work with the Idaho State Insurance Fund, our commercial liability insurance company to provide the safest work environment for our employees and our customers.
In addition to OSHA certification, Dahle Construction workforce and personnel are trained and certified per MSHA, and HAZWOPER. We also provide First Aid Classes and Refresher courses for our employees. These certifications are updated at least once a year.
Safety Meetings are scheduled once a week for all employees. Additional meeting are scheduled when required, and at every start of a new project or new set of tasks.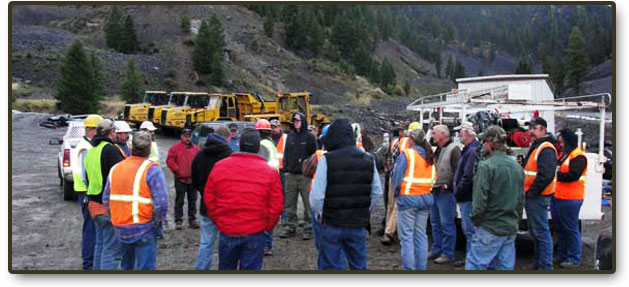 Dahle Construction has a zero tolerance policy regarding drugs and alcohol. Surprise periodic testing on all employees is accomplished as per our company safety manual and insurance company's requirements.
While not all safety programs are applicable to all employees, the following is a partial list of training opportunities available to all Dahle Contruction LLC employees.
40 hour HAZWOPER training
Confined Space Entry
Control of Hazardous Energy (LOTO)
Excavation and Trench Safety
First Aid and CPR Training
Fork Lift Safety
Hazard Communication
Stormwater Management
Worker / Supervisor Training
Vehicle and Equipment Safety