As experienced Idaho Earthwork Contractors working on a variety of Earthwork projects for over 60 years, we have developed an excellent reputation and experience in maximizing efficiency in the excavating and site prep industry. We provide land clearing, site development, and water and sewer utilities installation for small commercial developments to large industrial sites. Over the years our capabilities have expanded to Environmental Services.
Dahle Construction LLC maintains a large fleet of Heavy Construction Excavating Equipment included articulated dump trucks, belly dumps, dump trucks and trucks for heavy equipment hauling. Our late model equipment allows us to conduct large scale projects minimizing the number of loads by carrying the maximum yardage of material. Our OSHA certified operators and late model equipment allows us to provide quality, personal and courteous service to meet your earth moving needs and project deadline.
Excavating in Tight Spaces
Our personnel and workforce has experience working and training employees to efficiently complete excavating projects in steep, rough mountain terrain and near rivers, lakes and streams where environmental issues are a great concern. Dahle Construction with 70 years as experienced Idaho Earthwork Contractors is proud to be the best solution to any job where tight spaces, rough terrain, or water and environmental issues are related to the earthwork project.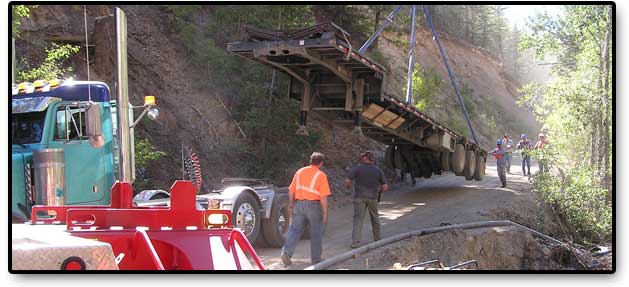 Performing All Phases of Excavating
Dahle Construction Earth Work capabilities include but are not limited to:
Aggregate Products including chips, crushed asphalt, drain rock, landscaping boulders, pee-gravel, pit-run, road-mix, and sand are available.
Road Construction – Dahle Construction LLC maintains the equipment, qualified operators and experience to construct driveways, highways, and parking lots. We have the capability to manage all phases from the initial clearing and grubbing to the completed site work.
Commercial Site Development – Full Site Preparation work includes access roads, construction engineering, excavating, grading for proper drainage, leveling,and paving. Trust Dahle Construction's years of experience when excavating for building pads and concrete footings; and preparing the ground for concrete slabs to obtain the best results. We ensure the soils are compacted properly to support the foundation and approve or obtain soil testing if the project requires it.
Environmental Services – Our OSHA and HAZWOPR certified workforce provides exceptional environmental services including 24 hour emergency spill response and environmental remediation.
Grading – Land clearing, removal of trees, excavating services, demolition, and grading services provided by Dahle's expert workforce allows water to drain away from building, roads, or building construction site.
Trucking Services – Dahle Construction LLC maintains a large fleet of late model, LARGE CAPACITY trucks including belly dumps and dump trucks; and trucks for hauling of heavy equipment.
Underground Utilities – Utility Site Services includes pipe procurement, trenching, installation and surface reclamation for septic systems, storm water and sewer systems. Dahle Construction LLC can also perform excavating joint trenches for power lines and telecommunications.
Contact Dahle Construction LLC for all your Excavating and Site Work Needs!
(208) 756-3241
Idaho Earthworks Contractors with 70 Years Experience to Perform All Excavating Jobs!