Commercial Excavating Contractors Salmon, Boise Idaho & Beyond
Dahle Construction LLC offers a full range of expert and reliable Excavating Services throughout Idaho including:
Dahle Construction maintains excellent standards for safety and standard operating procedures that will meet and or exceed your contract objectives. We work hard for you and our reputation through our commitment to quality work, customer service and in developing long-term relationships. We have the capacity, experience, and knowledge to estimate, manage, supervise and perform projects in many different disciplines.
BEST PROJECT VALUE – Choose DAHLE CONSTRUCTION LLC as Your Solution
Idaho Commercial Site Prep Contractor
Dahle's ethical, solution-oriented workforce is why companies trust our construction team with their complete site work and land development projects. Our extensive fleet of modern equipment allows us to handle commercial and industrial schedule intensive projects.
Idaho Commercial Construction Full Site Prep Contractors
Our Idaho "Total Site Prep Contractor" Package with Dahle Construction LLC is often chosen by companies discovering the long term benefits to their overall excavating project. While we self perform most site work services, our strong partnerships with selected industry leaders ensures individual tasks are completed with efficiency on budget and on time.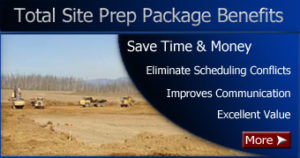 Aggregate Products
Earthwork Excavating
Environmental Services
Grading
Heavy/Civil Construction
Land Development
Site Prep Management
Structural Excavation
Trucking
Underground Utilities
Over the last 10 years, we have extended our parameters of excavating services to Boise Idaho and further hundreds of miles outside of Salmon Idaho. In order to work with the contractor and to continue to grow, Dahle Construction is willing to make work sites in nearly any corner of Idaho.
Dahle Construction is licensed, bonded and legally qualified to do business in any jurisdiction with the ability to bond up to 15 million per project. Some of those are listed below:
Idaho Contractor Business License # RCE-574
Idaho Complex Sewer Installer # I-0176
Idaho Public Works # PWC-C-11353-AA-1
Discover How Dahle Construction LLC team can add value to your Idaho site prep project!